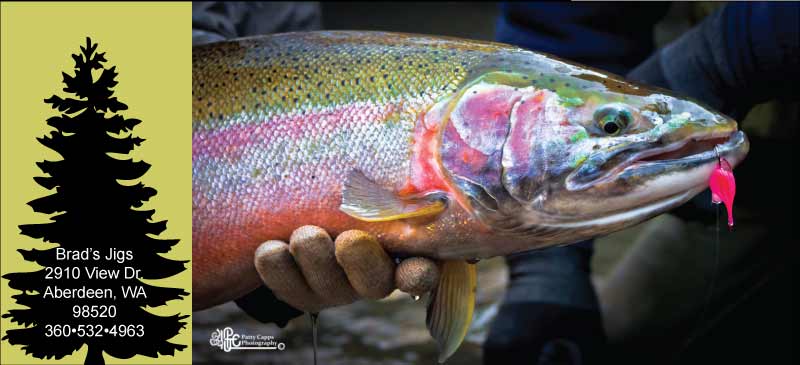 Brads Steelhead and Salmon Jigs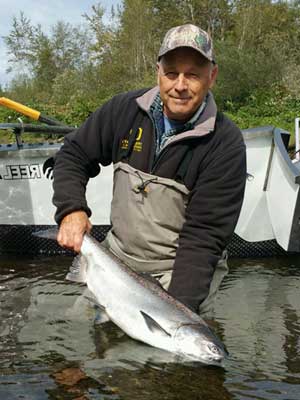 It's Steelhead time! Choose from a variety of Jigs to meet all your Jig Fishing needs.
Buy Steelhead and Salmon Jigs
If you are looking for a steelhead jig or salmon jig that is durable and catches fish, then you need to try Brad's jigs. I am a firm believer in doing things the right way and take no short cuts while producing a variety of steelhead jigs and salmon jigs.

To handle the strong and acrobatic fish of the Pacific Northwest, a great hook is a must! That is why I use 2X strong needle sharp, "proven" Owner and Mustad hooks for all my jigs.
Float fishing Jigs is SUPER EFFECTIVE!!! Try Brad's Jigs!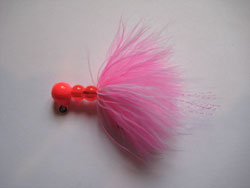 &nbsp &nbsp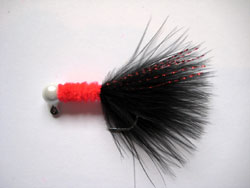 Stock up now! "Great Selection, Great Price!"
Buy Steelhead Jigs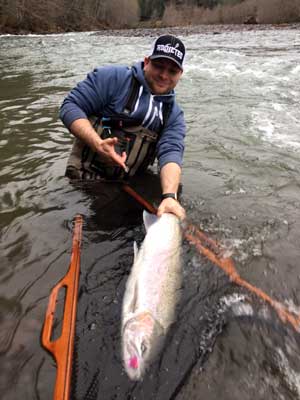 Marlin Lefever seduces another on a Brads Jig!
Steelhead and Salmon Jigs
Brad's steelhead jigs and salmon jigs are dipped a minimum of three times in colorful vinyl paint made by Componet Systems. Dipping the jig heads instead of using powder paint takes a lot more time, but it is the "toughest finish ever put on a jig" or lure. Due to its flexibility after drying, it can withstand anything you throw it at. All eyes are clean and ready to fish. Jig Tying Materials Grade "A" materials are used in a variety of ways to make these jigs look fantastic in your hand and even better when your float goes under. From start to finish, each jig is hand-tied to perfection. I want you to be able to fish with confidence knowing that you will be able to handle any fish, any where, any time, that's a guarantee!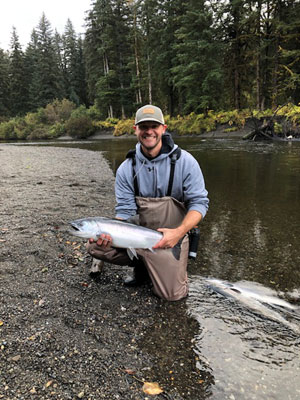 Brent lands one of many Coho taken on Brads Twitching Jigs!
Custom Steelhead Jig Orders
Custom orders. are available. If you have a favorite steelhead jig or salmon jig design, give me a call or email, and I will be happy to duplicate the pattern for you. What are fishermen saying about Brad's Jigs "Just got my jigs. I'm very impressed. Thanks Again, it's been a great experience. I will never fish anything else. As long as you are making them I'll be buying them !" .... Greg Morse

"The best jigs I have found on the market!" .... Marlin Lefever

"These are the ONLY jig heads that actually do not chip. The real McCoy!" .... Dan Albrecht

"These jigs are above and beyond what I expected! Everything about them screams quality. 100 times better than anything you could find on the shelf."....Max Wagner

"Always awesome service and a Stellar Product." .... Josh Handy

"Your jigs are top notch, my go to everytime!" .... Taylor Ray Jones

"Your jigs knock them dead. since I switch to your supreme jigs, I have been knocken them dead"." .... Nathan Adams

"I have tried many jigs and I can say without doubt that yours are simply the best I have tried or tied myself. If I lying I'm dyin".... Justin Macri

"you've got the best jigs in the world and everyone knows it. We had a pretty good run this year, and there was a few times when I couldn't keep them off your jigs".... Phil Rudat